Advocacy at Grant Family Medicine Residency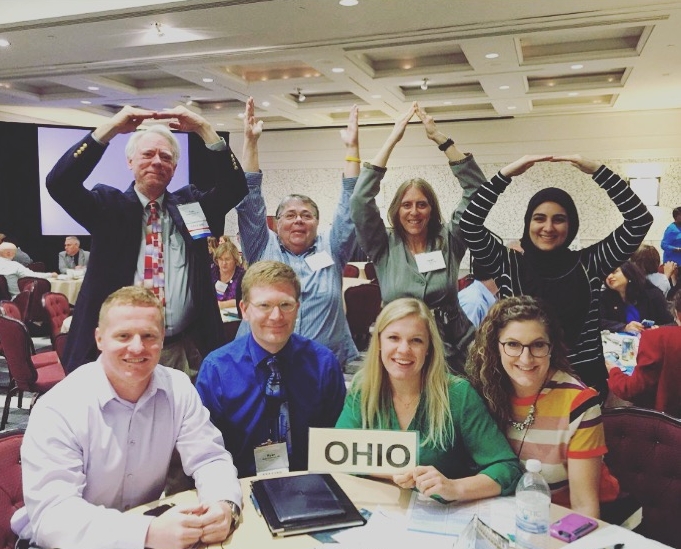 At Grant, we believe family medicine is uniquely positioned to help lead communities to better health and wellness. We understand the importance of preserving the specialty of Family Medicine through leadership at local, regional, state, and national levels. Often, to continue to advocate for our patients and communities, family physicians must reach out to our legislators and testify regarding key policy issues. At Grant, our faculty model advocacy in leadership roles, but more importantly, our faculty engage residents to get involved with advocacy early on in their training; and many of them do! In fact, it has become our most popular AOC (Area of Concentration)! Here are a few examples of opportunities our residents have throughout their time at Grant!
Residents participating in the Area of Concentration attend the Ohio State Legislative Conference as well as the Family Medicine Advocacy Summit in DC, allowing the ability to lobby on Capitol Hill with our US Senators and Representatives. Additionally, AOC members are given the opportunity to meet with Ohio Dept of Health Medical Directors, Ohio Health Advocacy Liaisons, attorney David Paragas representing the Ohio Academy of Family Physicians, and testify at the statehouse on important issues such as scope of practice, health insurance bills, and maintenance of certification.
Julie Petersen DO, Class of 2016 recently completed the Robert L. Phillips, Jr., Health Policy Fellowship at the Graham Center in Washington, D.C. As a resident, she was the representative to the OAFP Foundation and representative to the the OAFP Advocacy Commission, as well as the resident representative to the AAFP Commission for Governmental Advocacy and a National Conference Reference Committee Chair.
Brandon Crouch MD, Class of 2016 served as Resident Representative to the National Conference of Residents and Students, Representative to the OAFP Board of Directors, Resident Member of the OAFP Committees on Payor and Practices, Governmental Advocacy, and Membership Services, the Grant Residency Program Resident Representative to the COAFP, Member of the COAFP Board of Directors, and now President-Elect of the COAFP.
Ean Bett, MD, Class of 2017, served as the Resident Liaison for Physicians for a National Health Plan within the AAFP.
Roma Amin, MD, Class of 2018, served as the Alternate Resident Delegate to the OAFP Foundation Board of Trustees. Now as faculty, she is serving as the OAFP At Large Director.
Nate Overmire, DO, Class of 2019, served at the Ohio Osteopathic Association Strategic Summit, Ohio Osteopathic Association Health Policy Rotation, and Student Representative for the Northwest Ohio Osteopathic Association.
Valerie Good, MD, Class of 2019, served as Resident Representative alternate to the Ohio Academy of Family Physicians Board, resident member of the OAFP public policy committee, member of the AMWA Gun Violence Prevention Legislative/Advocacy Committee, and was previously a Family Medicine Emerging Leaders Participant in Public Health. She also attended the Family Medicine Congressional Conference and worked with the Ohio Delegation just after matching at Grant!
Kelly Thibert, DO, Class of 2020, served as the American Medical Student Association (AMSA) Immediate Past President, AAFP Tobacco Prevention and Control Committee Resident Member, AAFP Reproductive Health Member Interest Group Resident Officer, AAFP Primary Care Leadership Collaborative Coach in Training, OAFP Resident Delegate to the AAFP National Congress of Residents and Medical Students, OAFP Foundation Board of Trustees Resident Trustee, OAFP Outreach Committee Chair, and the Grant Medical Center Diversity and Inclusion Committee for Medical Education. She is now serving as the Resident Member of the AAFP Board of Directors.
Lizzy McIntosh, MD, Class of 2020, is serving as the Resident Chair of the AAFP National Conference.
Kelsey Murray, MD, Class of 2020, is serving as the OAFP Resident Director.
Darian Roberts, MD, Class of 2021, served as OAFP Foundation Board of Trustees Student Trustee as a medical student, and she is serving as the OAFP Alternate Resident Director.
Additionally, Dr. Sarah Sams, one of our core full-time Family Medicine faculty, has dedicated many years of her time to FM Advocacy. She currently serves in the following roles:
Chair of the AAFP Commission on Governmental Advocacy

Vice Chair of the OAFP Legislation and Advocacy Committee

AAFP Key Contact for Congressman Steve Stivers

Appointed by Governor to Ohio Physician Loan Repayment Commission

Key Contact for State Representative Cheryl Grossman

Ohio Delegate to the AAFP
When you have faculty serving in these types of roles, no wonder our residents feel inspired to join the cause!
Each of these residents found an advocacy role that fit their individual interests within family medicine. At Grant, we pride ourselves in helping residents take their skills and passions to the next level. Advocacy is just one example of how family medicine physicians make an impact on communities and it's one we are very proud to call a part of our ongoing work for Columbus, Ohio, and the US!
How will you make a difference at Grant?